In the quaint landscapes of Yorkshire, where Wallace and Gromit's love for Wensleydale cheese is legendary, something different has emerged. Curlew Dairy, nestled amidst the rolling hills of this picturesque region, brings to life the charm of handmade, raw milk cheese. Much like the fictional duo, Ben and Sam Spence, the founders of Curlew Dairy, embarked on an adventure that led them from the bustling streets of Manchester's finance sector to the pastures of Wensleydale. Today we're going to unpack the role ASC Direct played in their mission!
The Client
Ben and Sam Spence's journey into the world of artisan cheese began in 2019 when they decided to leave their finance jobs in Manchester in search of a slower pace of life in the countryside. Located initially on Ben's family farm, their longing for diversification led to the birth of the idea of creating raw milk Wensleydale cheese. In early 2022, they established Curlew Dairy, a micro-dairy in Wensley, driven by determination, passion, and a commitment to crafting exceptional Yoredale Wensleydale cheese. Today, their cheese graces the shelves of some of the finest independent cheese delis across the UK, having even earned a silver award at the prestigious World Cheese Awards.
Central to Curlew Dairy's success is their dedication to sourcing high-quality milk and prioritizing animal welfare. Their milk comes from a small herd of Holstein and Ayrshire cows cared for by a farmer named Will, who goes to great lengths to ensure the well-being of his cows. This commitment to excellence extends to their use of unpasteurized milk, which captures the essence of the farm's 'terroir,' incorporating elements like pastures, weather, and even soil bacteria into the cheese's final flavour profile.
Operating out of a tiny 6x3m dairy set up in their garage, Ben and Sam have achieved remarkable results. They produce cheese in small, meticulously monitored batches of 500 litres, giving them the flexibility needed to perfect their recipe. The camaraderie and support they've received from other small cheesemakers have been invaluable on their journey from garage to gourmet.
Their growing reputation has landed them in the spotlight, with features on Channel 4 and the BBC, illustrating how unique their processes are.
The Problem
Transporting food, especially delicate artisanal products like raw milk cheese, presents a myriad of challenges:
Temperature Sensitivity: Cheese requires controlled temperature conditions to maintain its quality and taste during transit.
Fragility: Cheese wheels aren't known for being delicate things, but individual blocks rattling around with crackers and jars of chutney can easily create chaos.
Batch Tracking: Accurate tracking of batch codes, production dates, and weights is essential for health and safety compliance plus quality control.
Branding and Information: Displaying branding, contact information, and social media handles on packaging to connect with customers is crucial.
Hygiene: Ensuring food safety by preventing contamination during transit.
Sealing: Reliable box closures are vital to prevent spillage and damage during shipping.
The Solution
ASC Direct partnered with Curlew Dairy to address these challenges head-on. We designed a bespoke packaging solution that not only protects the precious contents while making sure everyone knows Curlews Dairy is the one to beat!
Our box, featuring the Curlew Dairy logo, website, social media handles, and the region's name, acts as the outermost packaging layer. People tend to forget that packaging is there to convey information to both the buyer and the people who encounter the container during shipping, but every touchpoint is a small step closer to another purchase for a business! The corrugate box does not come into direct contact with the cheese and other products, which are individually wrapped in plastic or wax paper, but it does help keep all the individual items in place during transit.
The box design incorporates sections for cheesemakers to fill in essential information such as batch codes, production dates, and weights, ensuring compliance and quality control. Furthermore, our innovative overlapping flap closures reduce the risk of heavier items breaking the seal during transit, safeguarding the contents.
With this tailored solution, Curlew Dairy now enjoys enhanced protection for their delicate products while showcasing their brand and maintaining the highest standards of hygiene and compliance.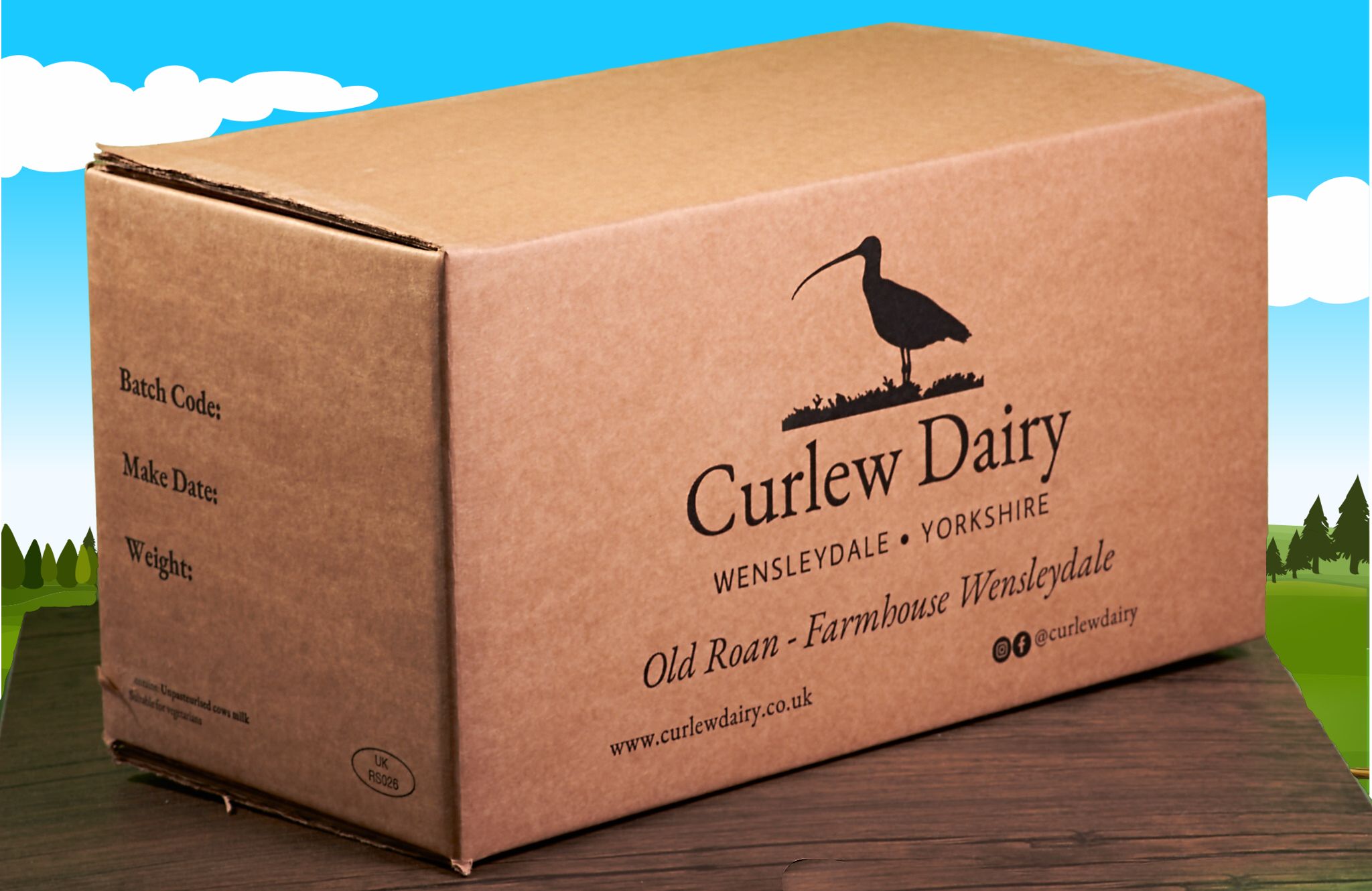 Going Forward
As Curlew Dairy continues to expand its range of products and gain international recognition, ASC Direct is committed to evolving with them. We understand that the need for advanced packaging solutions may arise, especially as they venture into new countries and markets. Our partnership is built on trust and collaboration, and we are excited to support Curlew Dairy in their journey as they reach new heights.
In the spirit of Wallace and Gromit's cheese-filled adventures, we look forward to many more exciting chapters with Curlew Dairy. A couple of Yorkshire businesses sharing flavour with the world, one carefully crafted box at a time. Together, we'll continue to turn dreams into reality, just like the claymation duo.