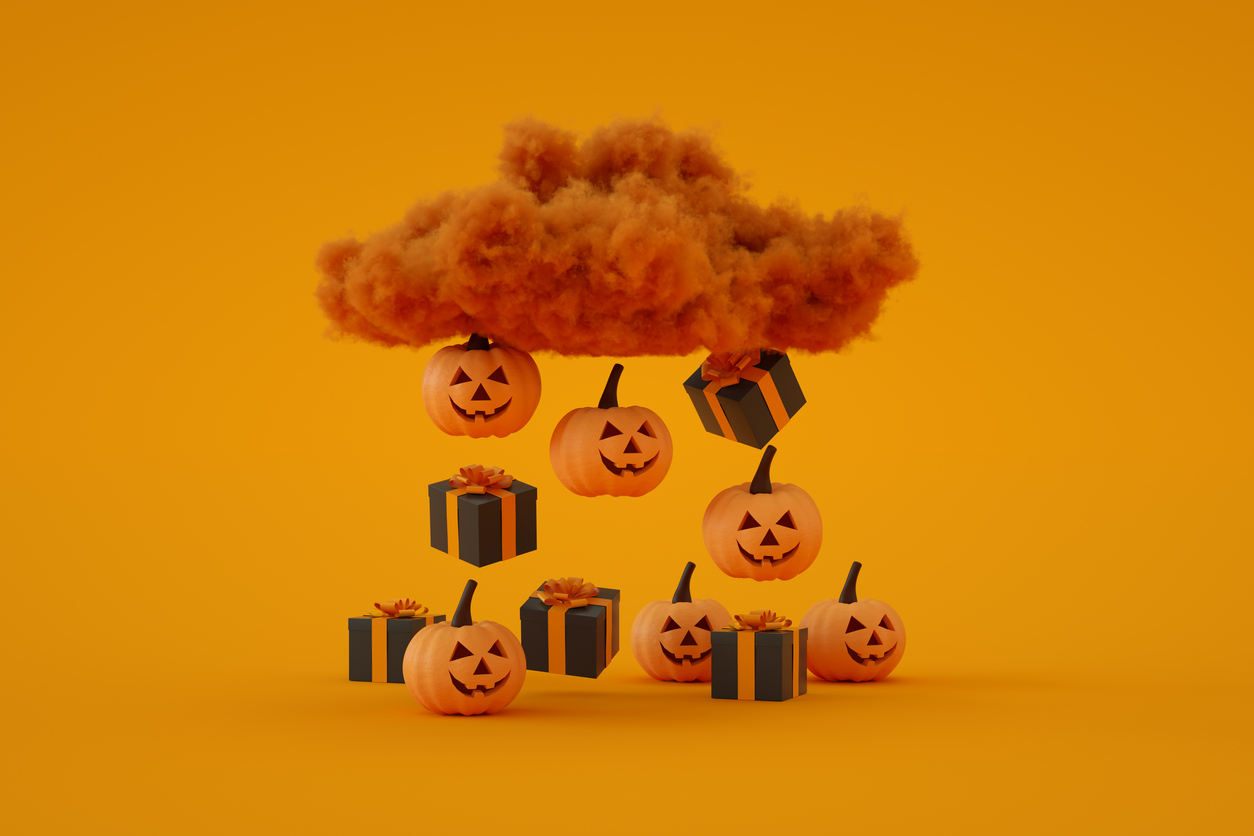 The holiday season is a magical time of year when creativity takes centre stage. From Halloween's spooky spectacles to the warm and cosy ambiance of Christmas, it's the perfect opportunity to showcase your brand's personality through custom packaging design. Cardboard boxes don't have to be boring and taking your packaging to the next level with seasonal designs can help you make a lasting impression on your customers.
Here are some ways you can banish standard packaging and bring some joy throughout the holiday season.
Halloween Packaging Ideas
According to Retail Dive, Halloween spending is set to soar to $12.2 billion this year, so if you're not already, your business needs to start embracing spooky season!
With Halloween just around the corner, you'll be in need of a quick turnaround, so here are some easy additions to elevate your packaging this October.
Eerie Elegance
To capture the essence of Halloween, consider using dark, gothic typography on your packaging. Combine it with deep, mysterious colours like black, deep purples, or blood-red to create an eerie and enchanting feel. Add spooky elements like bats, cobwebs or haunted house silhouettes for extra flair.
Spooktacular Illustrations
Incorporate playful yet spooky illustrations on your packaging. Think of witches, pumpkins, ghosts and skeletons. These illustrations can be a great way to add a touch of whimsy and connect with customers on a personal level. If you can find a way to connect it to your products for an extra personal touch, you'll be showing your customers that your brand values their custom and will always go above and beyond.
Wicked Window Cutouts
Cutouts in your packaging can create a sense of anticipation. For Halloween, incorporate window cutouts that reveal a glimpse of the product inside, teasing customers and piquing their curiosity. Shape the cutouts like spooky eyes, pumpkins or even a haunted house.
Christmas Packaging Ideas
Festive packaging design is a no-brainer over the holiday season. There's nothing quite like the pure joy associated with Christmas and gift-giving, so why not make it even more special? Check out these cosy and charming Christmas packaging ideas:
Frosty and Festive Illustrations
Christmas is all about joyful celebrations, so infuse your packaging with whimsical illustrations of snowflakes, reindeer and ornaments. Sticking to your brand colours will make you stand out against traditional red, golds and green, but using festive illustrations will keep it in season.
Gift Tag Integration
Incorporate gift tags directly into your packaging design. These tags can serve as a dual-purpose element, enhancing aesthetics while also providing a convenient space for personalised messages from your brand or customers.
Rustic Elegance
Brown cardboard boxes can still be festive. Opt for a more subtle nod to Christmas by adding some natural design elements such as Christmas trees, snowflakes and pinecones on top of your recyclable boxes. This design choice exudes rustic charm while also representing your brand's position on sustainability and use of eco-friendly packaging.


Customised festive packaging offers a unique opportunity to unleash your creativity and connect with your audience on a deeper level during Halloween and Christmas. Whether you're aiming for spooky sophistication or cosy Christmas charm, the key is to make your packaging an integral part of the holiday experience. By implementing these design-focused ideas, you can leave a lasting impression and spread holiday cheer through every unboxing. Get in touch with our design team today for all your bespoke packaging needs!